Making some pasta and getting puppy eyes from your dog? We dog owners know that our furry pets always want to sample any foods we're having, and that especially applies to hearty and salty snacks like Parmesan cheese. But can you share safely, or is your dog better off without this Italian delicacy? Can dogs eat Parmesan cheese? Let's find out!
What is Parmesan cheese made of?
True Parmesan cheese, or Parmigiano Reggiano, is an Italian aged hard cheese made of cows' milk. It's produced in Italy using traditional methods and has a protected designation of origin in Europe. This means that cheeses made in other regions are not allowed to be sold under the same name! Outside of Europe, like here in the US, "parmesan" can also apply to similar pre-grated cheese in plastic bags or shakers.
One of the most popular cheeses out there, Parmesan is usually grated over pasta dishes or salads. It can also be eaten on its own or used to give depth to foods like risotto or all sorts of soups. Its long aging time gives it a complex, rich and savory flavor, with a slightly gritty texture. No wonder our dogs go crazy for the smell!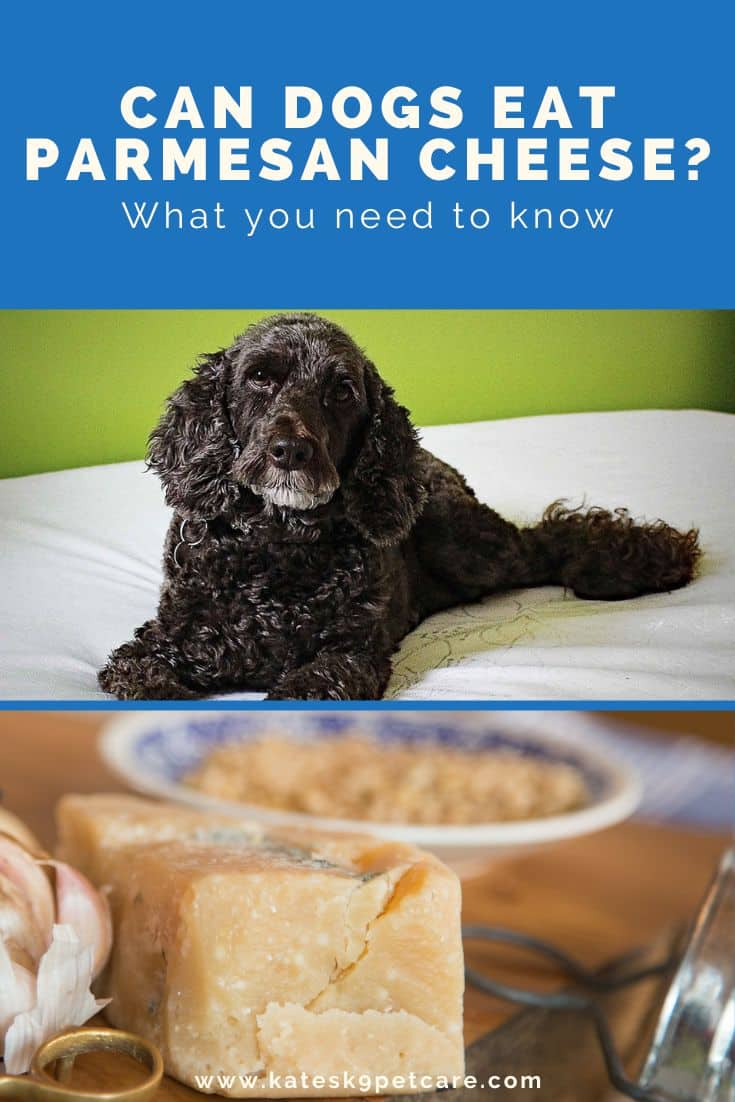 Can dogs eat Parmesan cheese?
Dogs love Parmesan cheese. They'll go crazy for a piece of Parmesan-covered pasta, and in fact, some dog owners like to sprinkle some grated Parmesan on their pup's food in order to encourage it to eat. This can be quite effective if your dog is under the weather and doesn't have much of an appetite, or if you're trying to get it to try something new. But is this actually a good idea? Can dogs eat Parmesan cheese?
The short answer is yes, they can, as long as you don't make it a regular part of your furry pet's diet. If you just want to share a flake of Parmesan as a treat, this should have no ill effect.
What sets Parmesan apart from many other cheeses is that it has an aging time of at least 12 months. During this time, the lactose content in the cheese naturally lowers, meaning it's significantly lower in milk sugar than young cheeses like brie. That's good news for our dogs, because they're pretty much lactose intolerant by default.
What you do have to keep in mind is that although its lactose content is lower, Parmesan cheese is not lactose-free. Additionally, this cheese is very high in salt, which is another reason it can cause your dog an upset tummy if it has too much. Its fat content is another reason it shouldn't be offered on a regular basis. Lastly, if we're talking grated "Parmesan" in a plastic shaker, it may also contain preservatives and anti-caking agents that aren't suitable for dogs.
If your pooch has somehow managed to get into and eat large amounts of Parmesan (like a full shaker, bag or block), you should monitor it closely for symptoms like vomiting, diarrhea and lethargy. When in doubt, just call your vet: they'll be able to tell you whether you should bring your dog in or not.
Healthy alternatives to Parmesan cheese
So if Parmesan is acceptable in very small amounts but doesn't make a good regular snack for your dog, is there any alternative? Actually, yes! Although most cheeses are considered no-gos, there are actually some options. Notably, there's cottage cheese, which is low in lactose. It's also much lower in sodium and fat than something like Parmesan cheese.
Most dogs will also be able to have small amounts of yogurt, as long as it's plain and not sweetened in any way (especially not with xylitol). We particularly like the old trick of placing a stick in a yogurt cup and freezing it! These "pupsicles" are perfect to help your dog keep cool during the hot summer months.
If you're looking for other fun snack ideas for your furry friend, check out our favorite recipes for plenty of inspiration!
Conclusion
So, can dogs eat Parmesan cheese? Yes, if you want to offer a flake of Parmesan here and there, that's fine. It doesn't make for a healthy regular addition to your dog's meals, though, as it has lactose, salt and large amounts of fat.