Found some fresh octopus at the market and planning on cooking it for dinner tonight? You're sure to get puppy eyes from your dog once the smell reaches its nose! But can you share some with your furry pet? Can dogs eat octopus, or should you keep this seafood away from them? Let's find out!
Can dogs eat octopus?
Although octopus isn't really a common food here in the US, you may be able to find it at some fish markets. This cephalopod is a popular menu item in the Mediterranean and Portugal, parts of Asia, coastal Mexico, Hawaii and other areas where a lot of seafood is eaten. If you're trying octopus for the first time, you may be wondering if you can share some with your dog.
Good news: your furry pet can have some octopus as long as it's cooked and unsalted. Octopus is high in protein but low in fat and calories. It also contains omega-3 fatty acids, which promote a healthy and shiny coat and are good for the brain, and various important vitamins. Unlike fish like tuna, which offer the same nutritional advantages, octopus tends to be low in harmful mercury. Variety is the spice of life, so letting your dog try interesting new foods like octopus is a great idea.
You should avoid feeding raw octopus or octopus sashimi to your dog, as it can contain harmful bacteria. It's also important to remember that processed foods aren't good for our pets, so don't offer dried octopus snacks (popular in Hawaii and China), as these tend to contain a lot of salt and possibly preservatives. Canned octopus (popular in Spain) isn't a good option either for the same reasons, and the same goes for breaded or fried preparations (popular in the Mediterranean and Japan).
Below, we'll have a look at how to safely prepare octopus for your dog.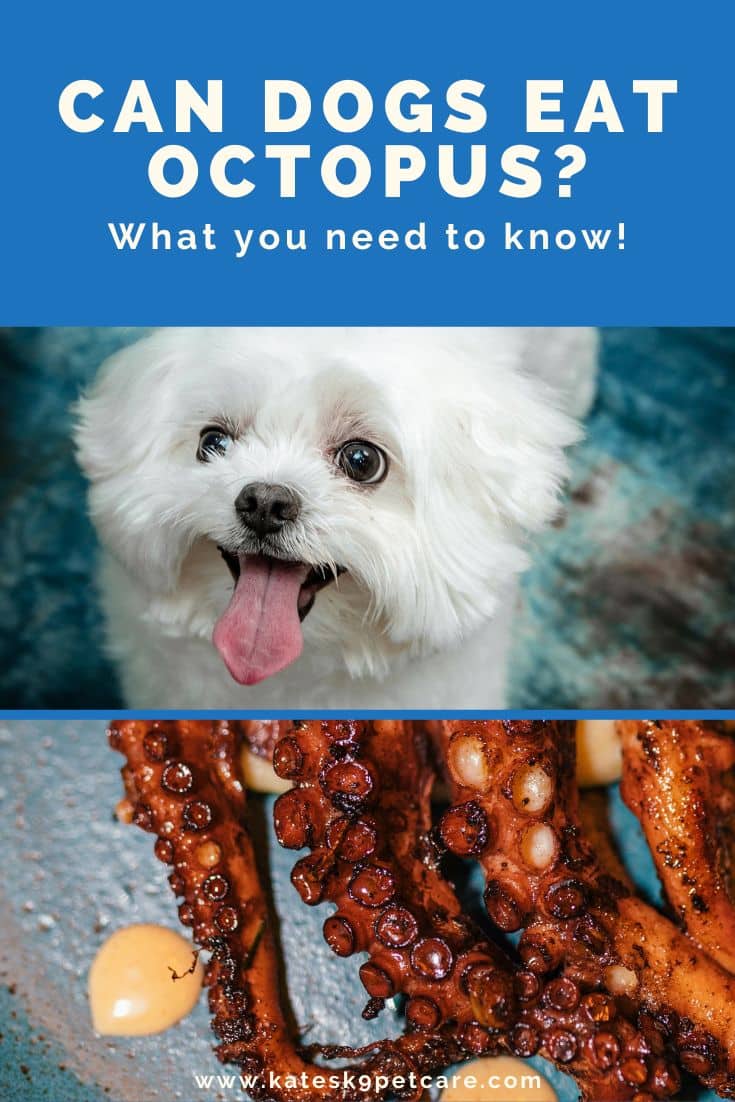 How to prepare octopus for your dog
OK, so your dog can indeed eat octopus, but it shouldn't be raw nor overly processed. So how should you prepare it?
Because you shouldn't feed too much of a new food all of a sudden to prevent an upset tummy, you don't need to cook an entire octopus for your dog. Instead, if you've bought a whole one, you can just clean it and then reserve one of the legs for your furry friend to try. All you have to do is cook it without any added salt or oil: boiling or steaming works well. After this, you can slice the leg and mix the slices with your dog's regular meals.
If your dog loves octopus, you could consider making some homemade dried octopus snacks to use as treats. Much cheaper than store-bought octopus jerky dog snacks! Most commercial brands use baby octopus, but for the homemade version, sliced cooked octopus leg works well. Pop them in a dehydrator or oven set on low (about 150 °F). It'll take around 4-6 hours for the slices to dry fully. They're ready when they feel tough and don't bend easily.
You can keep the dried octopus in an airtight container in the refrigerator for around two weeks. You can also opt to freeze the snacks, which allows you to store them for months.
Can dogs eat squid?
Yep! Dogs can eat all the species of cephalopods found at your local fish market as long as they're thoroughly cooked without any additives (so no breaded and fried calamari!). This means they can also have squid and cuttlefish. Give it a try and see if your dog is a fan!
Conclusion: Can dogs eat octopus?
So, can dogs eat octopus? Yes, they can, and it's actually a healthy new food for your pooch to try. Just steam or cook an octopus leg without salt or oil and slice it for a nutritious occasional treat. You can also dry octopus slices.