Having spaghetti and meatballs for dinner tonight? You're guaranteed to get puppy eyes from your dog with a yummy-smelling dish like this. But can you safely share some, or should you keep your food away from your furry pet? Can dogs eat meatballs? Let's find out!
Can dogs eat meatballs?
Cooked regular meatballs made from minced pork, beef, chicken or turkey meat are not dangerous to dogs. If you dropped one and your pooch got to it before you could, no worries. If there were onion pieces in the meatball, you should keep an eye on the dog, but in these small quantities the chances of issues occurring are pretty minute.
All this being said, you shouldn't let your dog partake in Meatball Mondays every week. Although meatballs are certainly not dangerous to them, that doesn't mean they're a healthy option either. This food is fatty and oily, has way too much salt, and may be seasoned with spices that are potentially dangerous to our pets, like onion and garlic.
While homemade meatballs aren't as bad as, say, canned ones, it's still a good idea to refrain from sharing with your dog more than once in a while.
Tip: If your dog got into some raw meatballs, it's a good idea to keep a close eye on your pet, although luckily they rarely actually end up getting sick. If you're in doubt, your dog had a lot of raw meat, or you're seeing concerning symptoms like diarrhea, you should call your veterinarian. They can tell you if they think you should bring the dog in or not.
Can dogs eat vegan meatballs?
Vegan meatballs are usually soy-based, although some brands use mushrooms. These ingredients are not dangerous for dogs, so again, no worries if Fido manages to get into your Beyond Meatballs. Aside from some flatulence due to the soy, issues are highly unlikely to pop up.
Still, like the traditional meat-based version, vegan meatballs shouldn't form part of your dog's regular diet. They're high in salt and fat, plus they may contain seasonings their stomachs can't handle.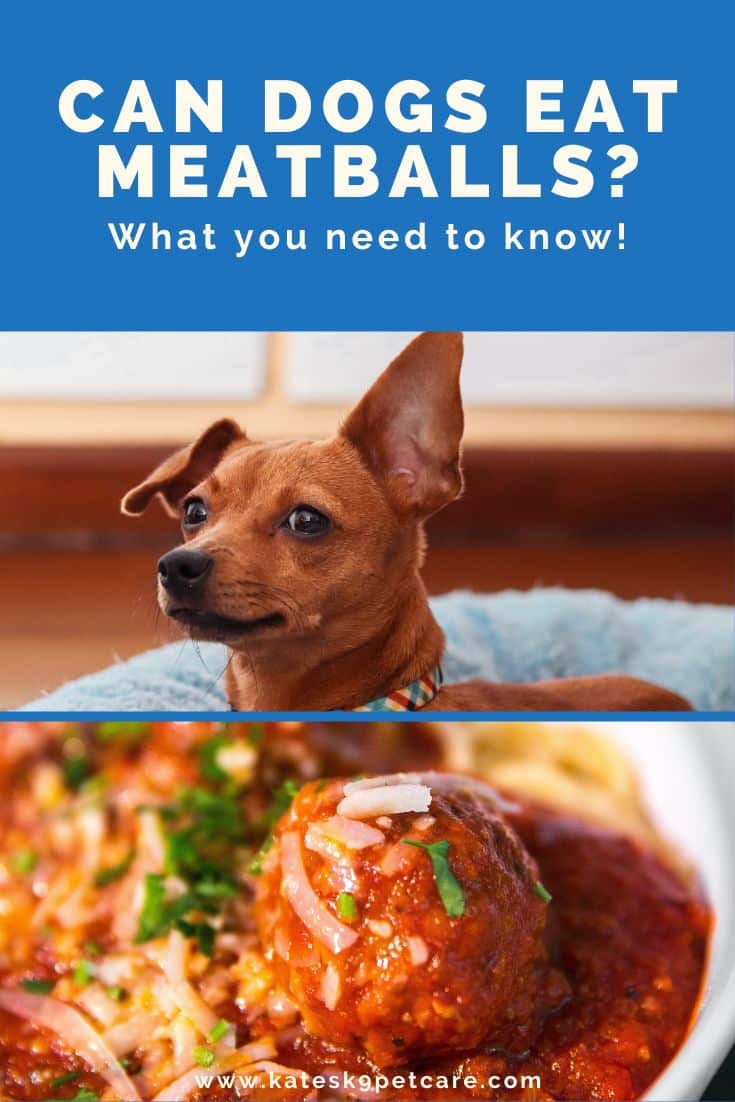 Meatballs for dogs: Recipe
Alright, so: meatballs aren't dangerous to dogs, but the ones made for human consumption aren't great for our pets in the long run either. But what if you removed all that salt, most of the fat, and any potentially risky seasonings?
Yep, you're right: you can totally make dog-appropriate meatballs. Stripping away all the extras means you're just left with plain cooked meat, which makes a fine meal for our furry friends. If you want to get creative, you could even sub in some other dog-safe (and healthy!) foods, like grated veggies.
So if you're having spaghetti and meatballs for dinner and don't want your dog to feel left out, you can just set some of the ground meat aside to make them a few dog-friendly meatballs to enjoy. Remember that beef, chicken and turkey mince tend to be less fatty than pork, making them a better option. It's best to get the leanest brand you can find.
Here's a basic recipe you can try (it makes quite a few, but they're freezeable!):
Ingredients
1 pound lean ground meat, like beef or chicken
1 egg
1/2 cup rolled oats
1/2 cup grated carrot
Method
Preheat the oven to 350 °F. Prepare a baking sheet by lining it with parchment paper.
Place all the ingredients in a large mixing bowl.
With clean hands, mix all the ingredients together, until you've got a uniform mixture.
Roll the meatballs with your hands, or use an ice cream/cookie dough scooper. They don't have to be large (max. 2″ diameter).
Place the meatballs on the parchment paper-lined baking sheet and pop them in the oven.
After 15 minutes, rotate the tray and flip the meatballs. Leave them for 10 more minutes. If you're not sure whether they're done, cut one open; the meat should be fully cooked with no pink at all.
Let the meatballs cool and use them as a training treat, or serve them as part of your dog's normal meal. You can freeze the excess, or keep them in your fridge for up to 4 days.
Tip: We love cooking yummy, healthy homemade treats for our dogs. If you do too, have a look at all our favorite recipes!
Conclusion: Can dogs eat meatballs?
So, can dogs eat meatballs? Yes, they can, although the ones prepared for human consumption aren't good for them in large or regular quantities. If you want to give your dog a few meatballs to try, it's best to prepare a quick and simple dog-friendly meatball recipe instead, saving the regular ones for your own spaghetti.
Sources