If you're making a stir-fry tonight and getting puppy eyes from your furry friend, you may wonder: can dogs eat bean sprouts? Is it okay for you to share some, or should you avoid including them in your pet's diet? Let's have a look at whether bean sprouts are safe for dogs and what you should keep in mind.
What are bean sprouts?
"Bean sprouts" generally refers to the young sprouts of a specific type of bean: the mung bean. This legume is highly popular in much of Asia, where it's used for all kinds of preparations. In the US, mung bean sprouts aren't quite as common as they are in Asia, but they're still a common addition to things like stir-fries, fried rice and spring rolls. You can buy them pre-packaged, but it's also possible to sprout them yourself at home.
All this being said, mung bean sprouts aren't the only bean sprouts in existence. Many different types of beans can be sprouted and used in a similar manner. Soybean sprouts are almost as popular as mung beans in some Asian cuisines, for example. You can also sprout chickpeas, lentils, peas, and pretty much any legume you can think of.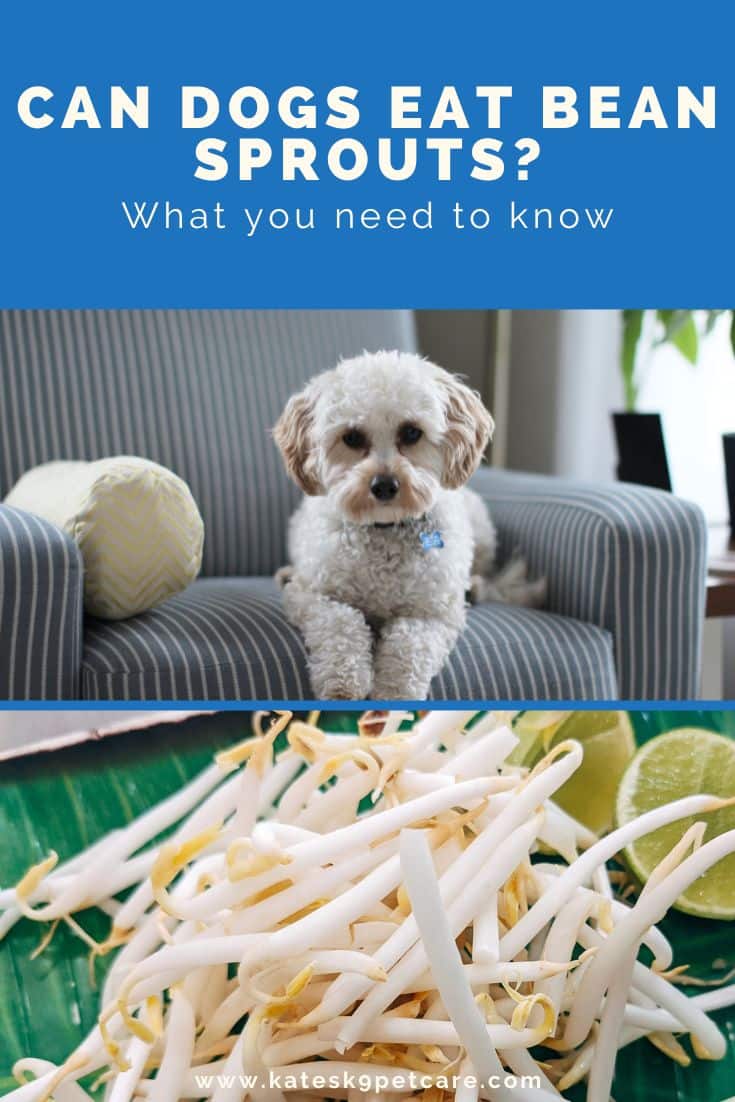 Can dogs eat bean sprouts?
Mung beans & soybeans
Good news if your dog is eyeing your sprouts: they're absolutely safe.
In fact, just like mung and soybean sprouts are healthy for us humans, they're also a good addition to our dogs' diets. Although an excess of sprouts can make your dog gassy due to the high fiber content, they offer a bunch of benefits in smaller doses. This is thanks to the fact that they're high in protein, vitamins C, A, K and others, and antioxidants.
Other beans
As mentioned, there are plenty of other types of (bean) sprouts available. Most of them are fine for your dog to eat:
Chickpea sprouts: yes
Lentil sprouts: yes
Kidney bean sprouts: yes, but best to cook them
Pea sprouts: yes
Sunflower seed sprouts: yes
Alfalfa sprouts: yes, unless your dog has endocrine issues
Buckwheat sprouts: yes
Fenugreek sprouts: yes
Remember that all sprouts should be fed in moderation. They're healthy, but to avoid giving too much of a good thing, use them as a topping or snack, not a full meal.
Preparing bean sprouts for your dog
If you'd like to include bean sprouts in your dog's diet, the good news is that it's a breeze to do so. Our furry friends can eat most types of bean sprouts raw, so the simplest way to offer them is to just sprinkle them on top of their usual meals. Just give the sprouts a good wash beforehand and you're good to go.
If you prefer cooking the sprouts (steaming works well) or adding them to homemade dog food, that's also an option. As long as you don't add salt or things like onion or garlic, they're perfectly healthy for your pet.
How to sprout your own beans
As we've mentioned, you can sprout your own beans at home. The type of bean doesn't matter: they're pretty much all sproutable! If you and your dog like to eat sprouts, you can save a pretty penny by DIY-ing it, as dried legumes are much cheaper to buy than pre-sprouted beans.
Here's how you do it:
Place the beans in a jar of water for around 12 hours (depending on bean size), until they've expanded a good bit.
Rinse the beans, then drain and place them back in the jar. Cover with mesh or cheesecloth, then place the jar upside-down (at an angle) on something like a dish rack.
Rinse and then drain the beans twice a day for the next 2-5 days (depending on the bean). Once the sprouts are the size you like them, give them a last rinse and you can eat them.
It's important to keep in mind that sprouts can be vessels for foodborne illnesses, so proper hygiene is very important. Discard sprouts that have any signs of fungus or that smell off. You can store them in the refrigerator for a few days, like in a storage container lined with damp paper towels.
Conclusion
So, can dogs eat bean sprouts? As long as you don't offer them in large amounts, they can. Bean sprouts make a healthy addition to your pooch's diet and are a great way to add a little variety.
PS: Wondering what to feed your dog? Have a look at our full safety section to find out about different food options and whether they're safe.