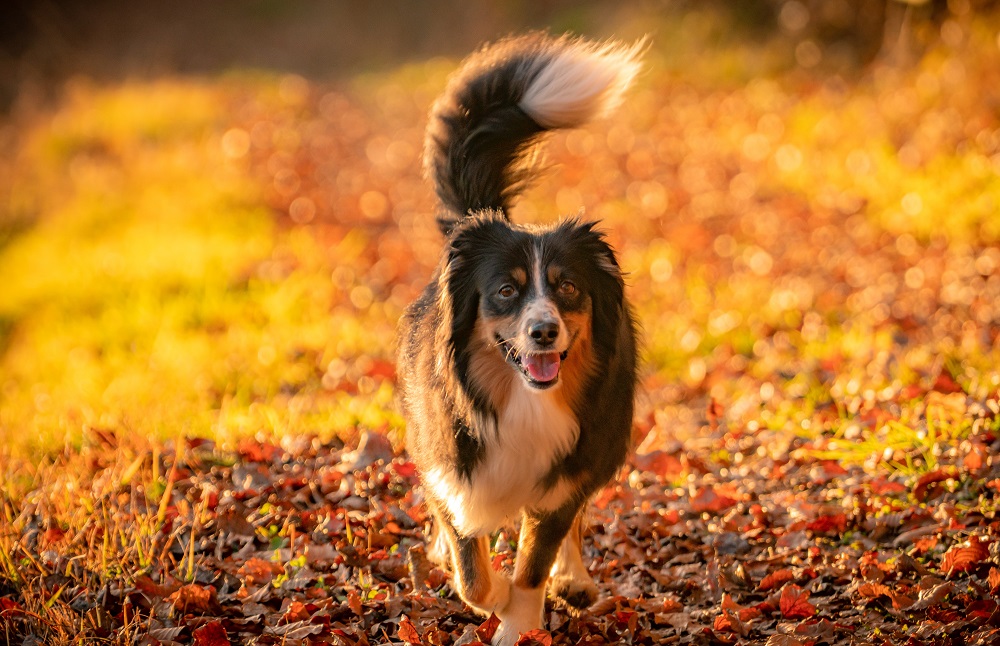 It's September at the time of this writing and fall is quickly rolling in! Whether you love "spooky season" or hate the impending winter, your dog still needs exercise to burn off that excess energy, so why not make it fun? There's plenty of stuff to do to enjoy yourselves together and strengthen your bond.
Here are 6 fun and dog-friendly activities to do this fall with your furry companion!
1. Go on a forest walk
In warmer areas, summer can be a difficult time for dogs. The fact that they're not able to sweat, combined with hot asphalt that can burn their paws and a fur coat they can't take off really takes a toll on some of our furry friends and makes it difficult to go out for walks and hikes sometimes. We're pretty sure dogs all around are rejoicing over the arrival of fall!
This is the perfect season to take your dog for a nice long walk in the forest. Most pooches love rolling around in the fallen leaves, chasing squirrels and (if permitted) splashing in puddles. Put on your rain boots if need be and head out there, letting your dog enjoy the wonders of the cooler weather. If it's really getting chilly where you are, don't forget to stop at your favorite coffee place on the way back for a hot chocolate and a puppuccino as a bonus.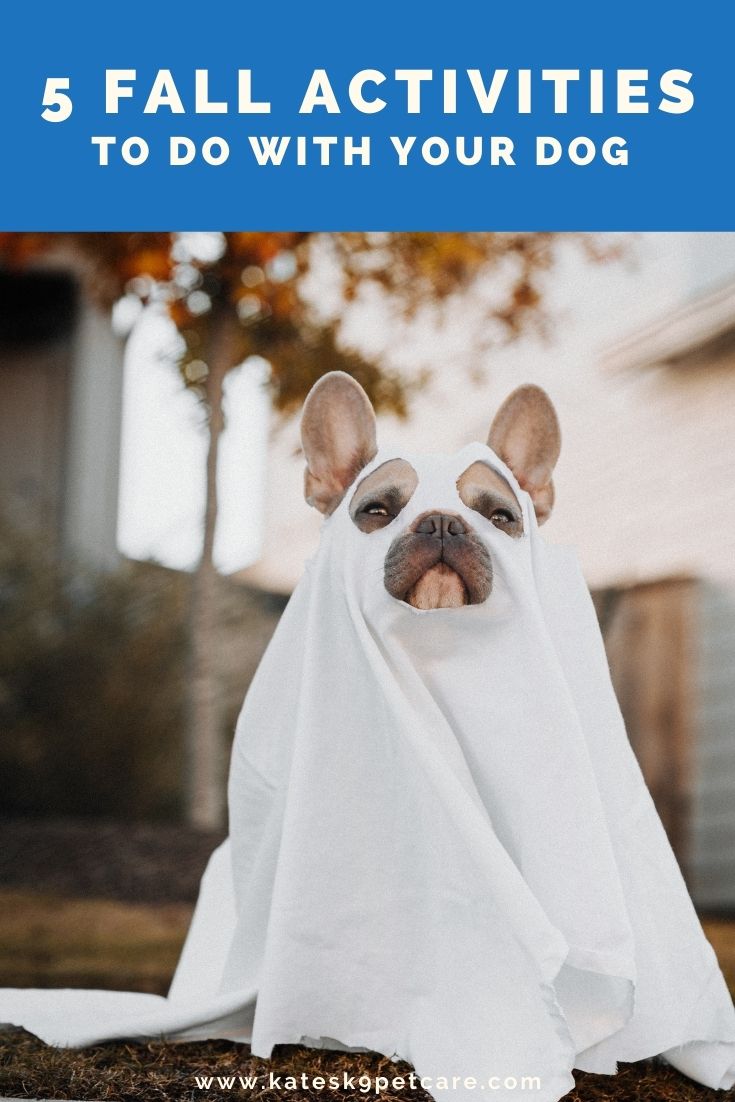 2. Make pumpkin dog treats
You may have seen our recipe for oatmeal peanut butter dog treats, which calls for a puréed banana. Let us tell you a little secret: you can also easily make these treats more fall-themed by substituting the banana for pumpkin! If you've gotten your hands on a fresh one, just cook it down into a purée, or you can go for an all-natural canned variety. Most dogs love pumpkin and it makes for a great healthy snack.
For another tip, if you'd like to take things to another level of fall-themed goodness, incorporate some spices into the cookies to make your house smell wonderful when you bake them. Although dogs can't have pumpkin spice mix (a small amount is fine, but let's not risk it), they can have cinnamon and ginger, which is definitely enough to get a nice autumn smell going.
3. Go to a pumpkin patch
What's better than picking out your very own pumpkin at a pumpkin patch (and possibly using some of the inside to prepare the aforementioned dog treats)? Picking out your very own pumpkin at a pumpkin patch with your dog, of course! Bonus points if there's also a corn maze nearby to get lost in.
Not all pumpkin patches are dog-friendly, but there are quite a few that are. Give it a Google to see if any of the ones near you permit dogs and you might be surprised. No luck? Don't forget that it's also apple season: there are plenty of orchards for apple-picking that allow dogs. And yes, your furry friend can have some apple while you're at it. They're safe in moderation.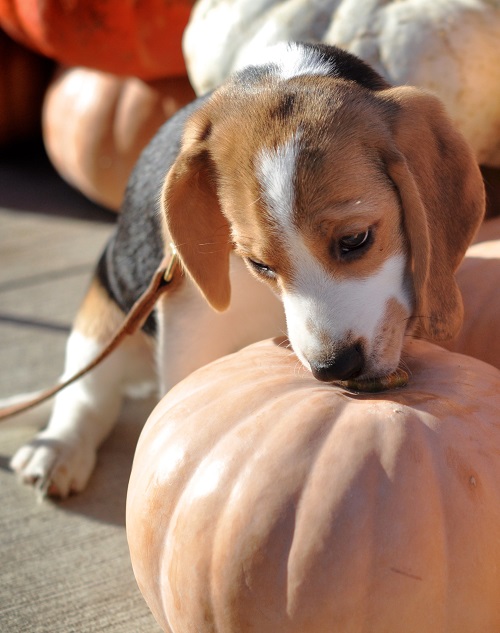 4. Go trick-or-treating
If your dog doesn't mind crowds (including children), why leave them at home while you go trick-or-treating? A well-trained pooch might greatly enjoy tagging along with you to receive pets from hordes of children and even dog treats if you happen to pass by a fellow dog owner's house. If being dressed up doesn't bother them, you could even go for matching costumes (Shaggy and Scooby, anyone?!).
If you'd like to take your dog trick-or-treating, make sure you recognize the signs of stress and are prepared to head home if your pooch gets nervous. Don't forget to bring water and make sure no enthusiastic children manage to feed them any candy!
Staying home for Halloween? Make sure your dog can't dash out the door while you hand out candy and prepare a calm space if they get overstimulated easily.
5. Do a Halloween photoshoot
How fun is a Halloween or fall-themed photoshoot with your dog?! If your furry friend doesn't mind being dressed up, snapping away indoors is a great way to spend a rainy day. If it's dry outside, a spot with lots of gorgeous orange fall leaves is perfect.
Don't have a costume for your dog to use in photos? A sheet with eye-holes is all you need for a great ghost outfit. You could even consider making a spooky background and using props like pumpkins.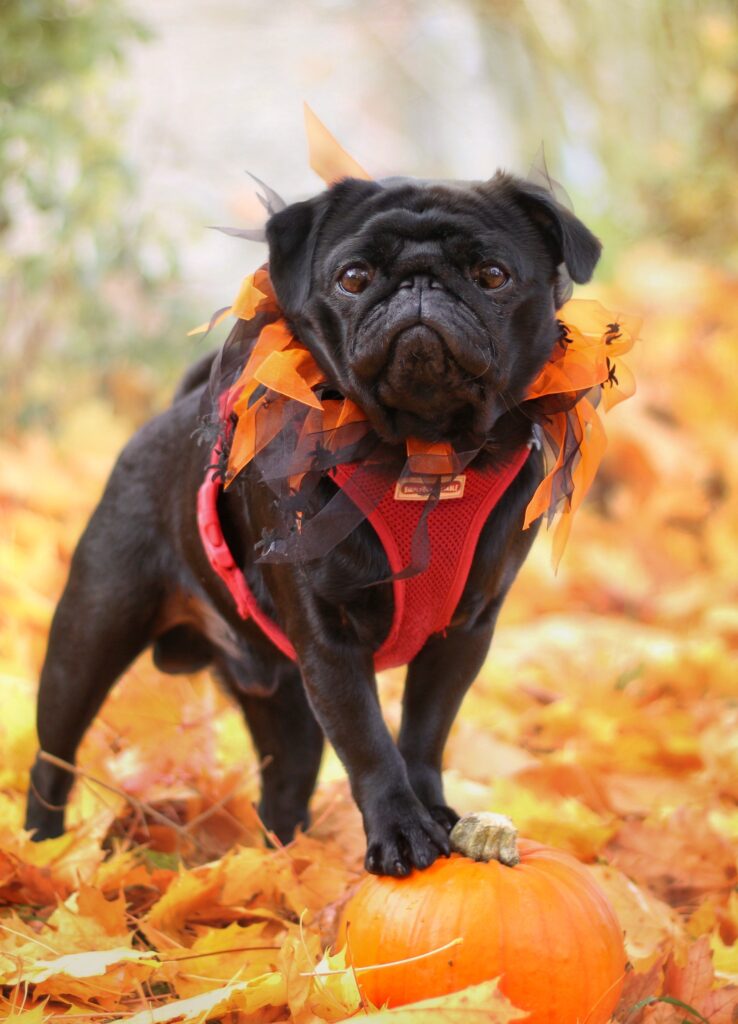 6. Stay indoors!
You don't have to go out, dress your dog up in fancy costumes or stage entire photoshoots to have fun. It's fall, so don't forget to take some time to just snuggle up on the sofa in some blankets and cuddle with your furry companion while watching a Halloween movie. They can eat some leftover pumpkin while you make pumpkin soup, have bone broth while you drink hot chocolate and just relax while the rain falls outside.