Receiving longing looks at the coleslaw salad on your barbecue platter or fried chicken sandwich? Yep, our dogs want to try everything that we eat, whether it's good for them or not. But can you share a little of this classic BBQ accompaniment with your furry friend? Can dogs eat coleslaw? Let's find out!
Can dogs eat coleslaw?
There's no straight yes or no answer to this question. However, let's just say that coleslaw exactly the most suitable dog food. If you want to share a snack with your pooch, it's not really the first thing we'd recommend. Why not try something more natural instead, like homemade dog treats?
If your dog has already "borrowed" some coleslaw off your plate, though, you don't have to worry either. It's not explicitly toxic by any means. Unless a dog eats it on the regular, there was a lot of onion in it or it was a very large amount, you don't have to expect any negative effects. If you're really worried, you can always ring your vet to ask if you should be doing anything.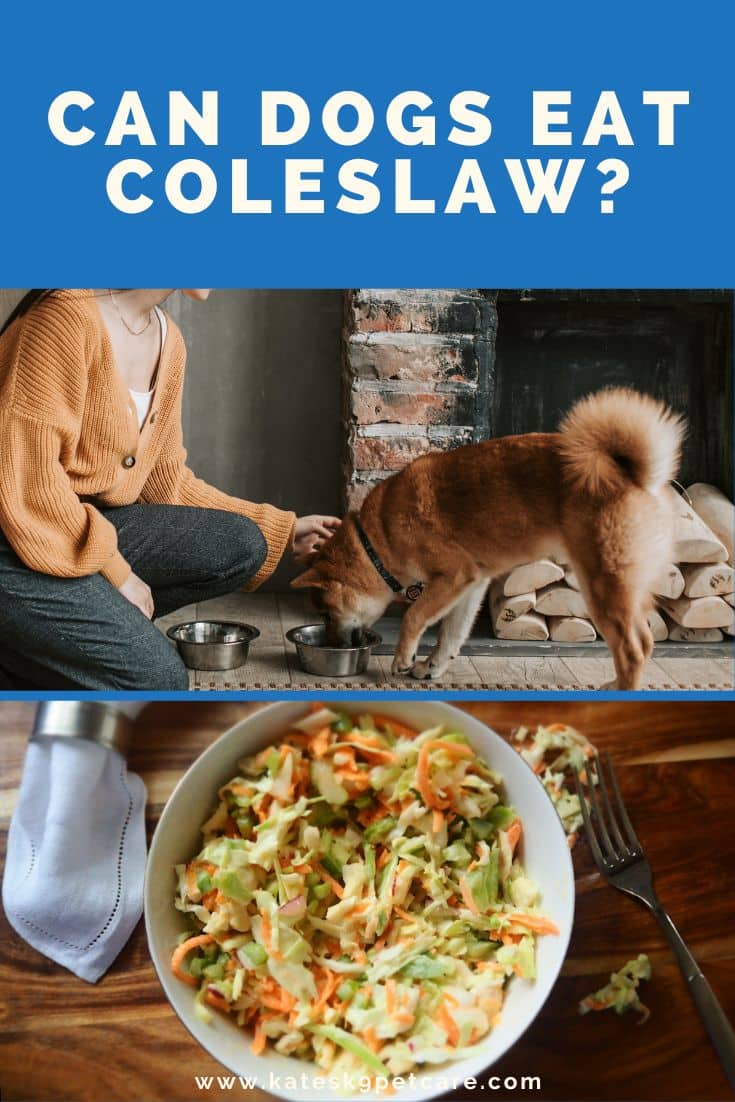 Why is coleslaw not the best for dogs?
Coleslaw is technically a salad full of healthy veggies. It often has cabbage (red or white), carrot and celery. Onion and sultanas or raisins may also be included. but not always. Aside from those latter two ingredients (both onion and grapes are considered toxic to dogs), these are all suitable for dogs and actually good for them. Cabbage can cause a bit of bloating and gas in both humans and dogs, but your pup would have to have a lot of it raw for these symptoms to start kicking in.
The issue, of course, is in the dressing and seasoning. Because coleslaw is prepared with mayonnaise, even a homemade version is often very high in fat. Store-bought varieties tend to contain a lot of salt and sugar, as well as preservatives and artificial flavorings. There might even be cream, which contains lactose and can cause tummy upset in dogs.
By the way, all of the above applies to the majority of "human foods". Our four-legged friends are experts in begging for table scraps, but they're usually just not healthy for them. The occasional piece of this or that is fine, but most of our snacks are too salty, sugary or fatty to feed on a regular basis. Dog food is still the best food for your pooch!
Remember, obesity is a common issue in our pets and can really reduce their lifespan and quality of life, so it's important to learn to tell them NO.
Coleslaw alternatives for your dog
If your dog is not happy about being denied its coleslaw snack, you could prepare an alternative version. Obviously this only works if you're making it at home; store-bought coleslaw is kind of beyond saving. The simplest solution would be to just offer your dog some of the shredded carrot and cabbage before dressing it or adding ingredients like onion and sultanas. That way it gets all the fiber, antioxidants and other goodness and none of the fat, sugar or salt.
You can also consider making a healthier coleslaw alternative, which is a great idea for those who like to pursue a healthy diet not just for their pooch, but for themselves as well. By replacing most of the mayo with yogurt you can easily make a much skinnier coleslaw that still tastes great.The vinegar that gives coleslaw its tangy flavor can stay, especially if you tend to use apple cider vinegar. Small amounts of it can actually be beneficial.
Because yogurt is low in lactose (much lower than something like cream), your dog can have a little bit of this "skinny" coleslaw without adverse effects. You can offer some in a separate bowl before seasoning, and then add things like salt, pepper and a little bit of sugar for yourself. That way, everyone's happy!
Conclusion: Can dogs eat coleslaw?
So, can dogs eat coleslaw? Well, as with many human foods, your dog won't keel over dead if it has some. However, unless you prepare a healthier alternative, this popular side dish is best left to the humans.
PS: You can find many more dog food Q&As in the Safety section here at Kate's K9 Pet Care.